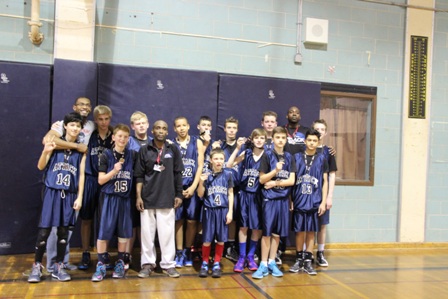 The Oxford Attack U14 team won silver at the Provincial Championships in Toronto.
The U14 Oxford Attack Boys Team Perryman recently competed in the provincial boys basketball championships held in Toronto on April 24th to 26th. The team is in its first year of existence and completed a very successful season by capturing a silver medal at the provincials in division 13.
The boys season started off slowly with some tough character building losses, but they kept working hard to develop a winning attitude. During pool play the boys played their best basketball of the season to open 3-0 allowing them to meet a tough Caledon Cougar team in the finals. The game went back and forth and ended the hard fought battle with a 47 -42 loss to earn the silver medal. Congratulations boys, the future is bright for basketball in Woodstock...
Submitted by Coach Craig Perryman.