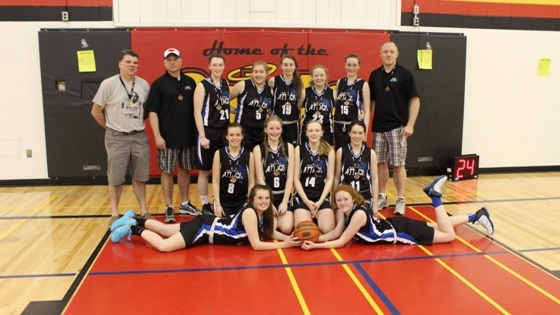 The Oxford Attack U16 girls team wins bronze at Provincials in Niagara.
The Under 16 OBA Girls basketball team travelled to Niagara Falls this past weekend to compete in their provincial championships. The girls followed up a silver medal in a tournament in Hamilton two weekends ago with a Bronze medal this past weekend. The girls started out the tournament by knocking off the #2 seed and eventual champions from London, 53-48. The girls started out the game hitting their first 3, three point shots. From then on, strong defense and well timed baskets sealed the victory for the Attack girls.
Next up was a very athletic team from Newmarket, IEM Aurora. The girls started the game on fire and took a 10 point lead. In the second half, Aurora came out with intense defensive pressure which caused some turnovers, allowing Aurora to catch up. In the final quarter the Attack girls had a chance to pull out the win, but missed free throws would be their demise. The final score was 49-48.
Sunday saw the girls with a chance to get to the gold medal game with a victory. The #1 seed Gloucester would not be denied though, despite a well balanced scoring attack from the Oxford girls. In the fourth quarter the girls got a little rattled after losing a key player to foul trouble. The final score of 46-38 was heart breaking for the Attack girls.
The loss to Gloucester dropped the Oxford Attack Girls into the Bronze medal game versus the Etobicoke Thunder. The game started with the girls taking a slim lead that they would never relinquish. Etobicoke seemed intent on winning the game by shooting 3 point shots. Any opportunity to shoot was taken. The game remained tight throughout as the well defended Thunder's shots somehow fell through the basket. As the Attack girls kept forcing their opponents farther back from the 3 point line, it seemed like the more shots would drop. The Etobicoke team hit 4 three pointers in the final quarter, each one farther back. It was not enough, however, as the Oxford Attack hit their foul shots in the final minutes, on their way to a 47-44 victory and their first Provincial Bronze Medal.
Story submitted by Coach: Russ Coomber