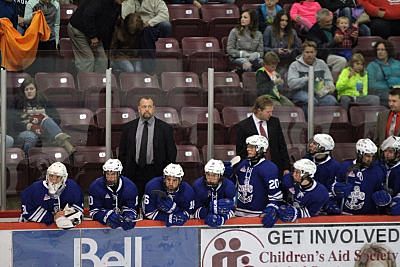 The Mounties and Vets series tied at two games apiece. Thamesford facing elimination Friday night.
WOODSTOCK - The Paris Mounties stormed into Southwood Arena Tuesday night, crushing the Navy Vets 8-2 in game four of their quarterfinal series.
Paris opened the scoring just thirty-seconds into the game and kept rolling opening a 4-0 lead at the end of the 1st period.
They made it 5-0 early in the 2nd period before Braden Hutchison scored a shorthanded goal to put Woodstock on the scoreboard.
The Mounties scored two more goals before Hutchison scored his 2nd of the game to make the score 7-2 after two periods.
Paris added another goal midway into the 3rd period to make the final score 8-2 to tie the series at two games-apiece.
Woodstock will travel to Paris Wednesday night looking to grab a crucial lead in the seven game series. Puck drops at 7:00 pm.
The Thamesford Trojans lost 5-3 to Exeter at home Tuesday night, giving the Hawks a demanding 3-1 series lead. Exeter will look to wrap up the series Friday night at home. Game time is 8:00 pm.