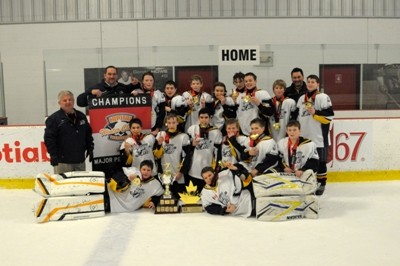 Woodstock's Pee Wee Rep Jr Navy Vets skated away with the another tournament championship
WOODSTOCK - The Woodstock PeeWee Rep Jr Navy Vets picked up their third tournament win this past weekend in Ottawa.
The Jr Vets had won tournaments in Guelph and St Thomase before taking the championship at the Capital Winter Classic Tournament this past weekend.
Woodstock finished first after going undefeated in three games of the round robin. They faced off against the Ottawa Sting for the semi finals Sunday morning. The two teams battled hard, forcing double overtime before the Jr Vets finally netted the 3-2 winner, advancing to the finals against Leitrim Hawks.
Woodstock dominated in the finals crushing Leitrim 6-0 to take first place and the championship.