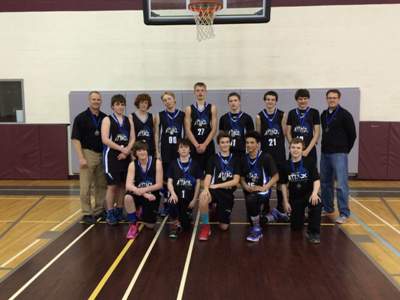 Attack U15 Boys Grab Silver in Ancaster
ANCASTER: The Oxford Attack Under 15 Midget Boys won a silver medal in their first sanctioned tournament of the season in Ancaster winning 3 of 4 games over the weekend.
The Attack boys opened the tournament against the host Ancaster Magic 2 team and raced out to an early lead for a comfortable 65-38 victory. Thomas Morgan controlled the backboards with 8 rebounds.
The boys next faced BC Troyka and struggled with Troyka's size for the first half but dominated the second half en route to a 67-43 win. Brandon Cowan netted 18 points and 7 rebounds for the Attack.
The Attack completed pool play against an inexperienced Milton Stags squad and dominated the contest defensively from start to finish winning 49-22. Ibrahim Taha had 7 points. The Attack nailed 8 out 10 free throws in their win.
The Attack faced the Inner City Saints in finale. The Saints half-court trap and stubborn zone defense gave the Attack boys fits in the first half. The Attack closed the gap in the 4th quarter but untimely turnovers and poor free throw shooting ultimately doomed their chance for gold. Callaghan Bullen had a career game for the Attack netting 31 points. Lincoln Poole had 8 rebounds and caused numerous altered shots protecting the rim from his centre position.
Next up for the U15 Attack Midgets is a mini friendly tournament on April 4 at Ecole Secondaire Notre Dame - the Attack play at 10:30 am and 1:30 pm.
Article submitted by: Chris Dempster