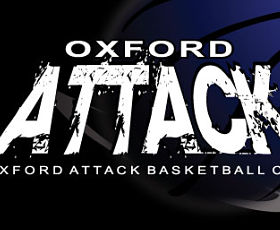 Attack U15 Boys Start the Season strong
WOODSTOCK: The Oxford Attack Under 15 Midget Boys won 2 of 3 games in their home friendly tournament in Woodstock over the weekend.
The Attack boys defeated the Guelph CYO Knights in their first game of the season 51-33. Matthew Keith and Callaghan Bullen led the Attack with 10 and 9 points, respectively. 4 different Attack players notched 3-point baskets against the Knights 2-3 zone.
The Attack next faced their nemesis in the Orangeville Hawks. The Hawks full court pressure has given the Attack difficulties in the past and once again caused a few turnovers for the Attack in this early season game. The game went back and forth until the final minutes and the Attack fell to a close 49-44 score. Lucas Gagnon netted 7 points and had 3 blocked shots for the Attack.
The final game of the one day tourney pitted the Attack against BC Troyka from Toronto. The result was a very high scoring and entertaining game with the Attack coming out on top of a 77-58 score. Brandon Cowan led the scoring with 22 points, while Adam Bullen and Cubby Dempster contributed 10 and 9 points, respectively.
The Attack welcomed 2 new local players to their squad this season and look forward to another successful season as 1 of 10 Oxford Attack basketball teams competing in the O.B.A. season.
Article submitted by: Chris Dempster