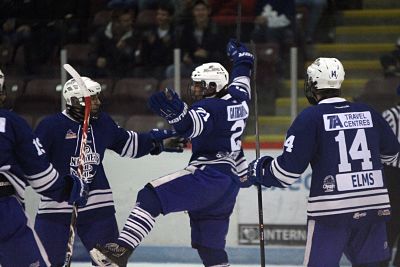 The Vets improved their season to 8-8 after defeating Burford 6 - 3.
WOODSTOCK - The Woodstock Navy Vet's win over the Burford Bulldogs has tied their most wins record for the past 4 seasons. Despite falling behind early in the first period the Vet's offense were kept pace with the Bulldogs eventually surpassing them in the second period with a flurry of goals from Braden Hutchison, Mike Gillespie and Dan Haig in the span of 6 minutes. Gillespie widened the Vet's lead to three goals with his second goal of the game on an empty net in the last minute of the game.
Jackson Swindells had a solid goal tending effort for the Vets, stopping 29 shots. The win lifted the Vet's to a two-way tie with Paris for fourth place in the league. Burford will get a chance at redemption this evening when the Vets visit the Bulldogs at 7:30 p.m.
Junior C Hockey Scores
Ayr put a damper on returning Merchants coach Dave Smith, giving Norwich a 4-1 loss.
Tavistock made it a 2 nothing shutout over New Hamburg.
Wellesley dominated Delhi 7-0.