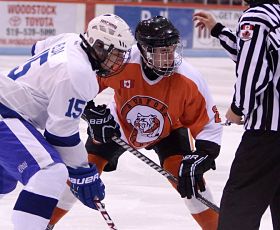 Vets now 1-1 for the season, going into next weeks match against the Merchants.
WOODSTOCK- The Woodstock Navy Vets lost 3 to 1 against Burford at Southwood Arena, Saturday evening. Burford got off to an early lead in the first.
Woodstock responded, with new Vet, Dylan Wettlaufer capturing his first goal in a Vets uniform to even the score in the first period. The 2nd period proved a stalemate for the two teams, neither who were able to score. The Bulldogs broke the silence in the 3rd and recieved no answer from the Vets. The Bulldogs held on for the win.
Rookie netminder Jackson Swindells was strong between the posts for the Navy Vets net making 27 saves, including a 2 person breakaway late in the 2nd to tie up the game. The Vets record now stands at 1-1 …
Coming up for the Vets will be a showdown versus the Norwich Merchants Friday Sept 26, 7:45pm on home ice in Southwood Arena. It will be the first game of this season's "Battle of Highway 59" series.
--
In other Junior C action...
Ayr won 6-2 over Delhi, New Hamburg hung on to take a 4-3 win over Tavistock and the Norwich Merchants dropped their game against Paris 6-2.