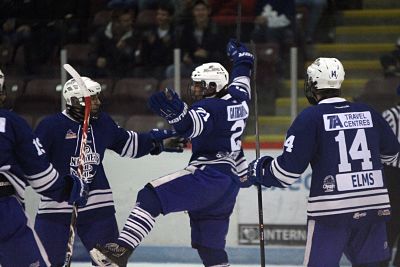 Langford lifts Vets over Paris with breakaway goal.
WOODSTOCK- Barely 38 seconds into the second overtime of the game, Navy Vet veteran Mackenzie Langford broke away from the pack to score the game winner enroute to a 3 to 2 win over Paris. It was certainly a night of dramatics with the Vets originally trailing in regular time well into the third period. 20 seconds left on the clock in the third, Vets are down by 1 and pull goalie Mike Roefs making it 6 on 5 for the Vets. Rookie Dylan Wettlaufer pounds one in the back of the net to seal an overtime guarantee. Wettlaufer made good after missing on an earlier penalty shot.
The Vets were the first team to win under the new rules. The MHL implemented a 4 on 4 for the first overtime getting down to a 3 on 3 for the second overtime.
--
In other Junior C hockey action....
The Norwich Merchants picked up their first home victory of the year against the Tavistock Braves, 4-2. Merchant captain Braeden Shand picked up three points during the game for a goal and two assists.
Burford gave Delhi quite the beating 7 to 3, and New Hamburg defeated Wellesley 5 to 1.
Thamesford overtook North Middlesex 7 to 5.