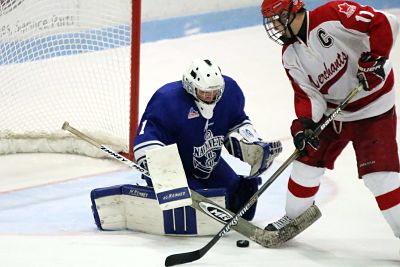 The Woodstock Navy Vets trend of losing the Battle of Highway 59 continued with a narrow 4-3 loss to the Merchants.
WOODSTOCK - The Navy Vets were on the losing end in the battle of highway 59. The Vets narrowly dropped their game against the Merchants 4 to 3. It was the Vets who found the back of the net with two quick goals barely two minutes into the first period, from Dylan Wettlaufer and Chris Nauts. Norwich cut the Vets' lead down to one, with a late first period goal to make it 2 to 1 going into the second. The Merchants pulled ahead early in the second but Jake Schneider for the Vets made sure to even the game going into the third.
The Merchants would go up 4 to 3 which would eventually decide the game. The 2 teams are now tied for 5th place with identical 7 and 8 records.
The Navy Vets will host Burford on Friday night at Southwood Arena at 7:45 p.m.