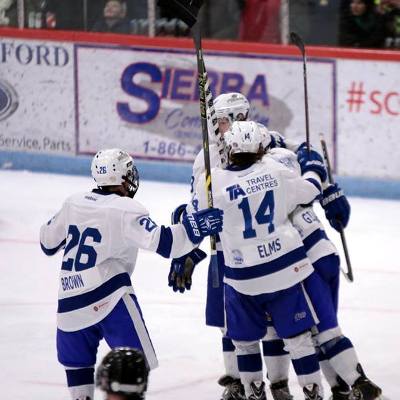 The Woodstock Navy Vets were eliminated from the junior c playoffs after losing to the Paris Mounties in Game 7.
WOODSTOCK - The Woodstock Navy Vets were elimated from the junior c hockey playoffs by the Paris Mounties in a 7-5 loss on Saturday night. Paris had a hot start in the first period taking a 2 nothing lead going into the second. Unfortunately for the Vets, the Mounties added 5 more to capture the game and the quarter final playoff series. Dylan Wettlaufer led the Navy Vets with 2 goals and 1 assist while Tyler Lyons and Mackenzie Langford each had a goal in what turned out to be their final junior hockey game and Braden Hutchison added for another Vets goal.
Jackson Swindells was strong in the Vets net facing 52 shots. The Vets finished the season with 21 wins a vast improvement over the previous year where they won only 5 games.
Paris moves on to the semi-finals where they face the Ayr Centennials.
MERCHANTS
A late third period goal by Norwich player Kurtis Lavis lifted the Norwich Merchants over Burford and into the semi's. Burford took an early lead, but Norwich battled back in the third to tie it up, before Lavis stepped in and sealed the win. The Merchants move onto the Semi-Finals where they'll take on the New Hamburg Firebirds.