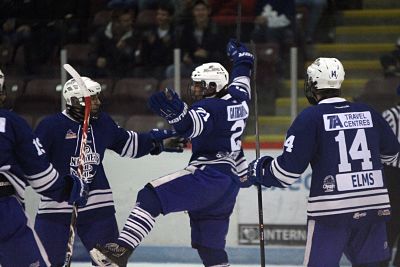 Vet's win over New Hamburg makes it 7-7 on the season.
WOODSTOCK - The Navy Vets took down the 2nd place New Hamburg Firebirds 6 to 4 on Friday night. The Firebirds got the scoring started pulling ahead in the first period with two goals. The Vets answered early in the second period with two goals even the score. The tie was not meant to last as the Firebirds scored less than a minute after the second Vets' goal to once again take the lead. The teams alternated goals, however the third period would prove to be the decision maker.
At the beginning of the third the Vets' began to pick up the pace. Austin Richardson and Justin Elms teamed up for two early 3rd period goals. In a last ditch attempt, New Hamburg pulled their goalie to pull within one goal. However Vets' defenceman Cam Leslie ensured the victory with an empty netter in the dying seconds of the game.
The win gives the Vets' a 50/50 record and sit in 5th place. This evening the "Battle of Highway 59" series continues. The Navy Vets travel to Norwich for a game at 8:00 p.m.
Junior C Scores
Wellesley narrowly edged Tavistock 4-3.
Paris had a convincing win over Delhi 4-1