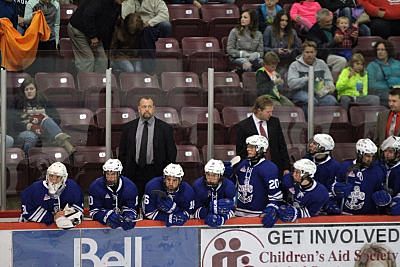 46 shots on Ayr's net not enough to lift the Vet's over the Centennials.
A late third period rally from behind wasn't enough for the Vets who narrowly lost to the league leading Centennials.
WOODSTOCK - The Woodstock Navy Vets comeback attempt fell just short in a 5-4 loss to the Ayr Centennials. The first place Centennials got off to a hot start in the first period, scoring three goals in a span of 11 minutes to take a dominating lead. Vets starting goalie Jackson Swindells was relieved by Michael Roefs in the first period. Roefs managed to hold the Centennials to one goal to enter the second period trailing 4 - 0. The Centennials refused to let up on the offensive scoring an early second period goal to make it 5 nothing.
The Vets finally answered the Centennials with a Mike Gillespie goal late in the second. The Vets mounted their comeback in the third period. A flurry of goals from Braden Hutchison, Gillespie, and Langford rattled the Centennials into a timeout. The Vets within range of tying the game, they nearly got their chance.
With a minute left, the Vets pulled Roefs to make it 6 on 4, peppering the Centennial goalie, struggling to get the equalizer. Unfortunately the 46 shots on net were not enough to lift the Vets over the Centennials. The Vets hold a 5-7 record and sit in sixth place in the standings
They will travel to Wellesley tonight for a game against the Applejacks at 7:30 p.m.
--
In other junior c hockey action:
The Norwich Merchants got the job done with an 8 - 2 blowout over the struggling Delhi Travellers. They play the Bulldogs this evening in Burford at 7:30 p.m.

The Tavistock Braves narrowly lost in overtime to the Burford Bulldogs 3-2. Tavistock plays Delhi at 8 o'clock in Delhi.