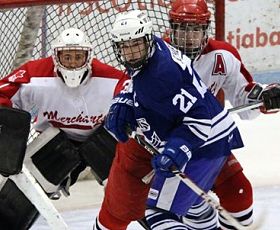 The Woodstock Navy Vets lost to visiting Norwich Merchants in first game of Battle of 59.
OXFORD COUNTY- The Navy Vets lost the first battle of Highway 59, dropping 4-2 to Norwich on yesterday at Southwood Arena ..
It was the Vets who got the scoring going early in the first period with two goals, scoring just over 3 minutes into the game and added a 2nd goal near the midpoint of the 1st period.Tables turned when Norwich countered with their own goal in the 1st, followed by two more in the 2nd and sealing the deal with a late 3rd period goal.
Captain Jake Schneider scored both Vets goals, giving him a combined 5 goals on the season so far. Vets goalie, Michael Roofs had a solid outing with 20 saves.It was the 1st win of the season for Norwich who got the season off losing their first 3 games.
The Navy Vets visit New Hamburg on tonight and then host Wellesley at Southwood Arena on Tuesday night at 7:45 p.m.
--
In other Junior C hockey action,
The Thamesford Trojans took a beating from the Lambeth Lancers. The Lancers shut out the Trojans by a large margin 8 - nil. The Tavistock Braves were dominant in a 5 - 2 win over the Wellesley Applejacks. New Hamburg edged Delhi 4-3 last night in Delhi.