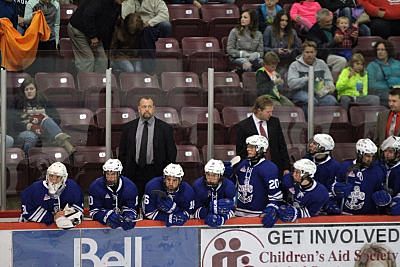 Narrowly edged by New Hamburg 3-2.
WOODSTOCK - The Woodstock Navy Vets lost a hard fought game to New Hamburg 3-2 in double overtime on Friday night. The Firebirds scored 15 seconds into the 2nd OT period to capture the win.
It was New Hamburg who got on the board first to take a 2-0 lead into the 3rd period. Austin Richardson scored a powerplay goal just over 12 minutes into the final period to get the Vet's on the board and then Mike Gillespie tied it for the Vets again on the powerplay with just under 3 minutes left.
The teams played a scoreless 1st OT period before the Firebirds scored early in the 2nd OT period for the win
Michael Roefs was solid in net facing 28 shots, while Jake Schneider picked up 2 assists.
The Vets travel to Norwich for the next installment of this season's "Battle of Highway 59" on Sunday afternoon.
6 Navy Vets will participate in the Midwestern Junior C Hockey League Prospects Game tomorrow afternoon in Ayr – Austin Richardson, Cam Leslie, Justin Elms, Dylan Wettlaufer, Max Coyle, and Jackson Swindells.
4 Navy Vets will also participate in the league All-Star Game that will follow the Prospects Game – Michael Roefs, Nathan Innes, Mike Gillespie, and Jake Schneider.
Mackenzie Langford was also named to the All-Star Game but tomorrow the Navy Vets veteran will be getting married.