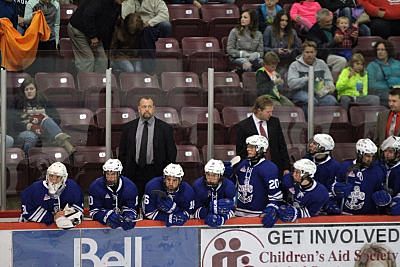 For the first time since December of 2011, the Woodstock Navy Vets have a three game winning streak.
WOODSTOCK - It may have taken two years but the Woodstock Navy Vets are on a three game winning streak for the first time since December of 2011. The Vets fresh off their first shutout since 2009, kept the ball rolling with their 4-1 win over Tavistock yesterday evening. Mackenzie Langford had a goal and 2 assists in the win, and collectively has 5 goals and 3 assists over the past four games. Austin Richardson, Justin Elms and Dylan Wettlaufer also chipped in to seal Tavistock's fate.
Vet's goalie Michael Roefs just narrowly missed a second shutout with Tavistock scoring late in the 2nd period to end Roef's nearly 100 minute shutout streak. There was no shortage of tension with each team's players trading dates with the penalty box in the second period.
The Vet's didn't waste opportunities on the power play, finding the back of the net twice on the power play, making that 5 power play goals in 2 games. They are currently ranked third in the league in the power play.
It's too soon to say if they will be contenders in the playoffs but they certainly have improved from a dismal 2013-2014 season which saw them finish last in the division.
The Vets visit the Norwich Merchants in an evening game on October 17th.
--
In other Junior C hockey action...
The Norwich Merchants narrowly lost 3-2 against the Wellesley Applejacks in rematch of their Friday game which the Merchants won. The Merchants ran into trouble early on in the first period when their leading scorer Mitch Berzins was ejected from the game for a check from behind penalty. The Merchants followed that up with a repeat check from behind from Braedan Shand late in the second. The Merchants managed a third period goal but fell short of tying it up.
The losing Merchants will meet the Navy Vets on Friday in Norwich.