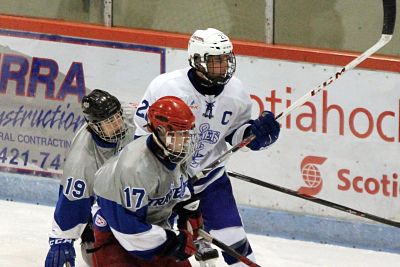 A 4-2 victory Delhi Friday evening gives the Navy Vets their fourth straight victory.
WOODSTOCK - A victory over Delhi gave the Woodstock Navy Vets what they need to move into a tie with Burford for third place in the standings. The Vet's overtook Delhi 4-2 in their Friday Evening match up with the Travellers. Scoring for the Vets were, Mike Gillespie, Nathan Innes, Justin Elms and rookie Nich Mercier. Mercier captured his first junior hockey for the Navy Vets.
Gillespie's effort earned him sixth place in the league scoring rankings. Vets goalie Jackson Swindells stopped 23 of 25 shots on goal to claim the win.The Vets get the day off before they face the Tavistock Braves Sunday evening at Southwood arena. Puck drops at 7:45 p.m.
Other Junior C Hockey Scores:
Norwich and Tavistock drew even 0-0
New Hamburg overpowered Ayr 5-2
Wellesley defeated Paris 6-4