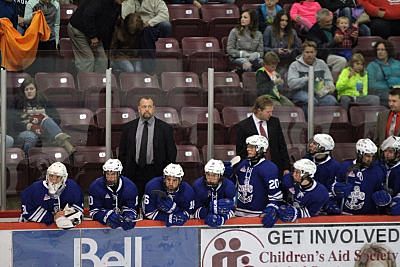 Vets finish regular season with a game against Ayr.
WOODSTOCK - The Woodstock Navy Vets dropped their game against Paris 4 to 1. The loss allowed Norwich to pull ahead of the Vets in the standings to move into 3rd place with 43 points. The Vets trail by 1 point in 4th place with 42 points. Meanwhile Paris is hot on the trail in 5th with 40 points.
GAME RECAP
Paris found the back of the net twice in the first period. Vet's starting goalie Michael Roefs was quickly relieved by Jackson Swindells. Both combined for a total of 22 saves. Paris would score in the 2nd to pull ahead by 3 going into the 3rd period. Vet's forward Mike Gillespie captured his 26th goal of the season on the powerplay halfway thru the final period to pull within 2. Paris put the nail in the coffin with an empty netter in the final minute.
694 fans were in attendance--the third largest crowd this season. The Vets will wrap up the regular season on Feb 1st in Ayr.
The playoffs begin the 1st week of February.
JUNIOR C HOCKEY SCORES
New Hamburg 8-0 over Delhi
Norwich 2-1 over Burford
GAMES TONIGHT
Delhi vs. Burford 7:30
Norwich vs. New Hamburg 7:30
Tavistock vs. Paris 7:30