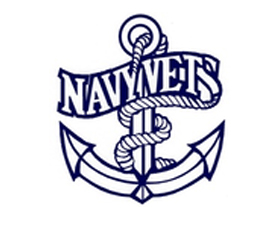 Woodstock Navy Vets kick off their 2014-15 season on home ice Friday night with free game for fans.
WOODSTOCK -- The Woodstock Navy Vets will kick off their regular season Friday night on home ice.
Monday, the team released their opening day roster and promotions schedule for the 2014-15 season.
Friday night's game at Southwood Arena is not only the first game of the season and home opener, it's also free for all fans to come and watch.
In the release, the management and coaches highlighted that 91.3% of the clubs roster positions have been filled by local players:
#1 Goalie Michael Roefs 1993 Ingersoll
#2 Forward Chris Nauts 1997 Woodstock
#3 Forward Austin Richardson 1996 Woodstock
#4 Defence Nick Mercier 1997 Cambridge
#5 Defence Cam Leslie 1997 Embro
#6 Forward Michael Nutt 1995 Ingersoll
#8 Forward Braden Hutchison 1997 Tillsonburg
#9 Forward Nick Zehr 1996 Woodstock
#10 Defence Nathan Innes 1996 Woodstock
#11 Forward Michael Gillespie 1993 Woodstock
#13 Forward Mackenzie Langford 1993 Woodstock
#14 Forward Justin Elms 1997 Woodstock
#16 Defence Tyler Lyons 1993 Woodstock
#17 Forward Matt Jauernig 1995 Woodstock
#19 Defence Max Coyle 1998 Tillsonburg
#20 Defence Jeremy Racicot 1997 Ingersoll
#21 Defence Jake Schneider 1995 Woodstock
#23 Forward Garrett Whetham 1995 Woodstock
#24 Forward Dan Haig 1995 Woodstock
#31 Goalie Jackson Swindells 1996 Woodstock
Additionally, the Vets are excited to announce the affiliation of the following three local players that will spend time with the club this season:
Defence Austin Whetham 1997 Woodstock
Defence Chris Thompson 1997 Woodstock
Forward Chris Jenssen 1997 Woodstock
The organization will also celebrate the year with a number of promotional nights for the fans to enjoy including:
Sept. 12 Free Home Opener Admission is Free
Oct. 10 Breast Cancer Awareness Pink Jerseys -- Donations accepted
Nov. 11 Remembrance Day Camo Jerseys -- Jerseys Auctioned
Nov. 28 Minor Hockey Night WMHA & Wildcats Free (Jerseys)
Dec. 5 Alzheimer's Awareness Purple Jerseys -- Donations accepted
Dec. 19 Teddy Toss/Social Media Retweet/Share for 1/2 off admission
Jan. 23 Fan Appreciation Free T-Shirt to first 100 fans
In their release, the Navy Vets say "the not-for-profit organization is committed to the community of Woodstock; to take the team back to what it once was, a pillar of excellence within the community both on and off the ice."