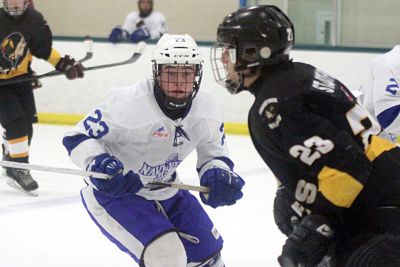 Vet's goalie Jackson Swindells recorded a 3-0 shutout over the Braves.
WOODSTOCK - The Woodstock Navy Vets delivered on a must-win game Saturday night versus the Tavistock Braves. The Vet's scored a goal in each period to blank the Braves 3-0. Rookie Vet's goalie Jackson Swindells picked up his first shutout of his junior c hockey career, facing 39 shots in net. While Austin Richardson, Braden Hutchison and Michael Nutt found the back of the net to secure the win.
The win bumps the Vet's record to 19-17 with just four games left in the regular season. The win places the Vet's in a tight battle with Norwich and Burford for 3rd to 5th place in the standings. The Navy Vets will host Burford on Friday night at Southwood Arena at 7:45 p.m. in a very important battle for home-ice advantage heading into the playoffs.
Junior C Hockey Scores:
Paris pummelled Delhi 9-1
New Hamburg went 5-2 on Wellesley