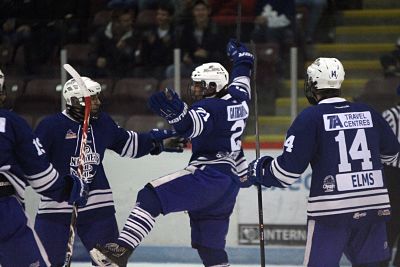 The Woodstock Navy Vets blanked the Paris Mounties 7-0 in action Friday night.
WOODSTOCK - The Woodstock Navy Vets were in action Friday night and put on an impressive show, blanking the Paris Mounties 7-0.
Seven different players were responsible for the effort, with goals coming from Dan Haig, Jake Schneider, Mike Gillespie, Mackenzie Langford, Justin Elms, Garrett Whetham, and Tyler Lyons. Scneider's goal marks a league leading 8 game scoring streak, and Mike Gillespie leads the OHA with his 16th goal. Both Garrett Whetham and Tyler Lyons were credited with their first goals of the season. Justin Elms added 2 assists to his goal, and Dylan Wettlaufer and Jeremy Racicot also contributed assists in what was clearly a whole team effort.
Paris ran into a lot of penalty trouble and the Vets capitalized scoring 3 goals on the man advantage.
Michael Roefs, goaltender for the Navy Vets, got his 2nd shutout of the season making Roefs the first Vets goalie to record multiple shutouts in a season since Chris Lee had 3 in 2008-09. Friday night's shutout also put Roefs atop the leaderboard in the league with a 2.09 Goals Against Average.
Also in OHA action last night, Lambeth edged Thamesford 5-4, Tavistock beat Delhi in a high scoring affair of 7-1, The Norwich Jr. Merchants were shut down by New Hamburg 4-2 and Wellesly defeated Burford with a 6-1 Final.
The Mounties are on home ice for a rematch tonight against the Navy Vets in Paris at 7:30 pm. The Navy Vets next home game is next Friday Nov.28 at Southwood Arena at 7:45pm vs Highway 59 rival Norwich Merchants.
November 28th will be Minor Hockey Night with all players attending wearing their minor hockey or Wildcats jersey admitted free when accompanied by an adult.