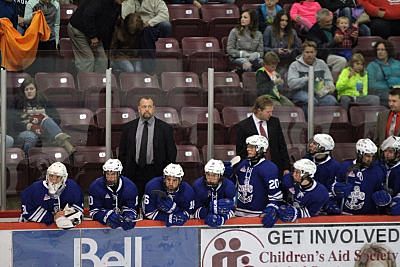 The Woodstock Navy Vets 8 game winning streak came to an end Saturday night in a narrow loss to the Burford Bulldogs.
WOODSTOCK - The Woodstock Navy Vets were narrowly edged by the Burford Bulldogs in a Saturday evening match-up. The teams alternated goals before the Bulldogs pulled away in the third to take a one goal lead. A last minute attempt by the Vets to pull goalie Michael Roefs for the extra attacked came up short. Michael Gillespie had both goals for the Vets, scoring in the second and third periods. Gillespie's two goals give him a league-leading 18 for the season.
The Vets remain third in the standings, but fell to four points back of 2nd place New Hamburg. They will try to start another streak on Friday night when they host winless Delhi at Southwood Arena at 7:45 p.m.
OTHER JUNIOR C HOCKEY SCORES
New Hamburg topped Paris 5-1
Norwich edged Tavistock 3-1