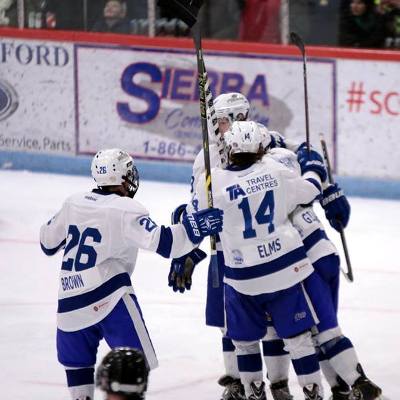 Navy Vets shut out Paris Mounties to win first playoff game since February 2009.
WOODSTOCK - Michael Roefs played outstanding in goal and Dylan Wettlaufer scored twice as the Navy Vets beat Paris 2-0 in the first game of their quarterfinal series Tuesday night at Southwood Arena.
Wettlaufer scored early in the 1st period to give the Vets the lead while Roefs made several outstanding saves including two on breakaways to keep the game 1-0 thru the first period.
Wettlaufer scored again late in the second period on the powerplay to give the Vets a 2-0 lead and a little bit of breathing room.
Roefs made several more outstanding saves in the third period including two more breakaways to preserve the win. The Woodstock netminder made 27 saves for the first playoff shutout by a Navy Vets' goalie in over a decade.
The win was also Woodstock's first playoff win since a 5-3 victory in Norwich on February 24, 2009 during the Niagara District West Division Semifinals.
The Vets now lead the best-of-seven quarterfinal series 1-0 and head to Paris on Thursday night for Game two at 7:00 pm.