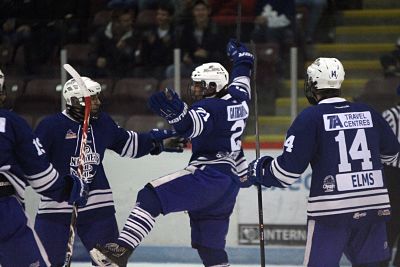 Burford fell to the Woodstock Navy Vets 2-1 in overtime.
WOODSTOCK - The Woodstock Navy Vets captured their 20th season win for the first time in 6 years. The last time the team hit 20 regular season wins was during the 2008-09 season. It took less than two minutes into overtime for Dylan Wettlaufer to give the Navy Vets a 2-1 win over Burford at Southwood Arena on Friday night.
After scoreless 1st and 2nd periods, Burford struck early in the third period. Shortly after Austin Richardson tied the score for the Vets. Vet's goalie Jackson Swindells played his 3rd straight game in the Vets net facing 29 shots.
The win moves the Vets 4 points ahead of Burford in the race for 4th place. Finishing fourth would give the Vets home-ice advantage in the first round of the playoffs.
The Navy Vets will travel to Delhi on Sunday night to face the winless Travellers before returning home to close out their regular season home schedule next Friday night at Southwood Arena against Paris for " Fan Appreciation Night "