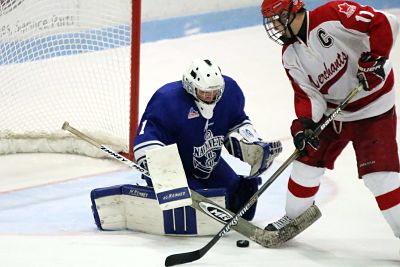 The Woodstock Navy Vets shutout the Norwich Merchants to claim their first win over the Merchants in several years.
WOODSTOCK - A solid outing from Woodstock Navy Vet's goalie Michael Roefs shutout archrivals the Norwich Merchants. Roefs faced 19 shots in net and improved his shutout record to three on the season. The win finally broke a several years long drought against the Merchants. The Vet's scored 3 enroute to a 3 nothing win to make it 8 wins in a row.
The first period was scoreless, the Vet's Jake Schneider got the scoring going on a 2nd period powerplay. Austin Richardson picked up two goals scoring late in the 2nd and an empty netter in the third to secure the win. The Vets now sit in third place, 2 points back of New Hamburg.
They travel to Burford this evening at 7:30 p.m.
Other Junior C Hockey Scores:
The league leading Centennials gave Delhi a 11-0 pounding.
Tavistock narrowly edged Burford 4-3.
New Hamburg topped Wellesley 4-2.