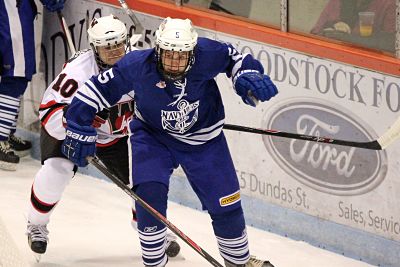 Vets' make it 3-1 over Wellesley to get them back on track.
WOODSTOCK - The Woodstock Navy Vets are back on the winning track after a comfortable 3 - 1 over the Wellesley Applejacks. It was the Applejacks who got the scoring off early in the first period only to run out of steam. Woodstock was quick to answer with Mackenzie Langford and Mike Gillespie chipping in for two goals in the second period. Dylan Wettlaufer made it 3 - 1 with 14 seconds left on the clock in the final seconds of the game. Michael Roefs was solid in net for the Vets stopping 28 shots.
The Vet's improve their record to 6 - 7 on the season and remain in sixth place in the league. They will go back to back on the road starting Friday in New Hamburg and Saturday in Norwich.
Junior C Hockey Scores:
It was a high scoring game but not in Norwich's favour. The Burford Bulldogs ate the Merchants for breakfast with a score of 8 - 5. The Merchants will get a chance to redeem themselves on Thursday in Ayr at 7:30 p.m.
Tavistock had a dominating performance over the winless Delhi Travellers 5 - 1. They will recieve Wellesley on Halloween.
Paris defeated New Hamburg 6 - 3.
Thamesford had a convincing 5 - 2 win over Exeter. They will travel to Dorchester on Saturday.