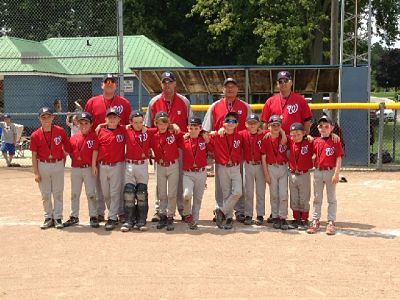 The Woodstock Rookie Wranglers advanced to the Provincial Championships
WOODSTOCK --
The Woodstock Rookie Wranglers are Inter County champions.
Woodstock Minor Baseball Association hosted the Rookie Championships over the weekend, with the Rookie Wranglers opening the tournament Saturday morning with a 17-5 win over the Waterloo Tigers.
In game two, against the Kitchener Panthers, Woodstock was down 6-0 in the first inning before battling back to grab the 17-14 victory in the last inning.
The Wranglers moved on to game three in the afternoon, beating the Guelph Royals 15-9 and completed the Round Robin play undefeated after a game four, dominating 19-2 win over the Stratford Indians Sunday morning.
For the championship final, the Wranglers faced off against the Kitchener Panthers in a close game but it was Woodstock coming away with the 17-12 win to take the tournament and championship title.
The boys now advanced to the Ontario Rookie Baseball Championships in Chatham Labour Day weekend.