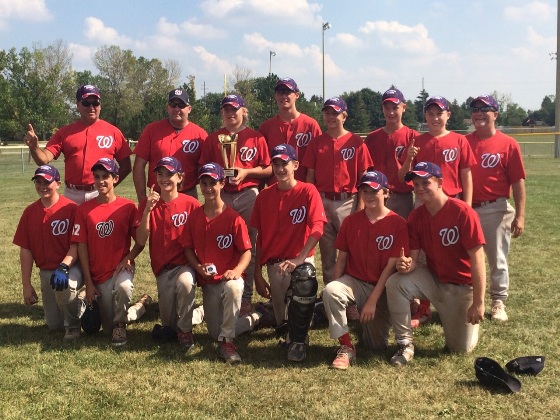 Two teams from the Woodstock Wranglers Minor Baseball System won big this weekend.
WOODSTOCK - It was a great weekend for Woodstock Wranglers Baseball at the Ontario Baseball Association championships.
The Minor Bantam team made up of 14 year old's won their OBA championship with a 4-2 win in the finals over the host team Bolton. Meanwhile over in Chatham the Wranglers Mosquito squad made up of 11 year old's from the Provincial Championship as well. Head Coach of the Minor Bantams Mike Houle tells Heart FM it was a close game for the championship on Monday.
"We were going into the bottom of the sixth up 2-1, they were the home team we were not and they tied the game up in the bottom of the sixth, so we had to rally in the top of the seventh to score two runs and were able to hold them off for the championship with a final score of 4-2 in a really close game."
Houle says the boys win a ring just like the pros and it is a huge deal to win the Provincials.
"It means that in your category you are the best in Ontario in your age category, so it is a prestigious award and the kids get rings just like in the NFL or the MLB and it is very special to them as 14 year old's and they get a cap indicating they are the Provincial winners, so it's very special for the kids."
It was also a great weekend for one family who had boys on both the Mosquito and Minor Bantam teams. Another Wranglers team, the Major Peewee's almost won a title as well, losing in the championship game.