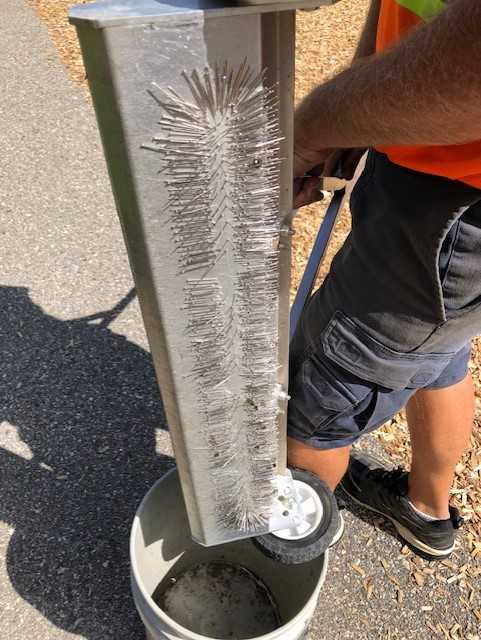 Woodstock Mayor Trevor Birtch is deeply concerned about sewing needles, nails and thumb tacks being discovered at Southside Park.
WOODSTOCK - Nails, sewing needles and thumb tacks have all been left at playing areas in Southside Park last month.
Three separate incidents of this were recorded at the cricket patch, the splash pad and the playground. The first incident was first reported on August 19th by Heart FM news. We then discovered something similar happened earlier in August at the cricket patch. The most recent case happened on August 22nd at the splash pad. We have not heard of anymore incidents since then.
Woodstock Mayor Trevor Birtch says he's been following this very closely and is deeply concerned about the behaviour.
"I think of my young children and the enjoyment of the parks, it is very concerning. The first thing I would like to say to all of the families out there, whether we have incidents like this occurring or not, make sure you are always mindful of those that are around and the environment and be protective of your children and grandchildren."
Birtch says this is a top priority for the police right now.
"I want to ensure all of the residents that Police are doing everything they can and I want to give a big shout out to the staff at the Parks Department for continuing to monitor and look for this nefarious activity."
He says this certainly is unusual behaviour.
"It could be related to the pandemic and maybe they are reluctant to see people out there enjoying the fresh air, so be vigilant and we are continuing to monitor the situation."
Birtch says he also heard from a number of residents concerned about hypodermic needles in the Friendly City. To be clear the needles left at the playground, were sewing needles. Birtch says they are discussing some of the issues around hypodermic needles.
"We are looking at ways to communicate some of our frustrations to the senior level of Government when it comes to the other type of hypodermic needles and we have a lot of programs available through Southwestern Public Health and the Province and perhaps it's time to revisit how we deal with those needles in an exchange program."
Birtch did want to encourage people to use the Parks in the Friendly City.
"We are so blessed in the Friendly City to have an abundance of parks with unique character, but also a lot of trails and opportunities to get out with your family, so take advantage of the nice days while you can, snow will be coming soon and council will be discussing snow removal budgets in the coming months.
Birtch says the police are actively investigating and the Parks department has done a great job being proactive and increasing their inspections.