Kaitlin O'Shea
About Kaitlin:
I was born and raised in Hamilton but have been calling Oxford County home for the past 5 years now. I graduated from the Radio Broadcasting program at Mohawk College with honours. Radio has been my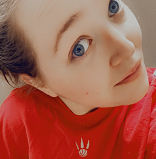 passion since I was young; listening to my favourite announcers brought me a sense of comfort and I have always wanted to make that kind of a difference in the world. You can hear me every weekday from 2-7pm! I am excited to begin my radio career with the best station in Oxford County!
I am a huge hockey lover, adore music with a passion, and enjoy curling up with a good book every now and then. My cat is my best friend and I would do absolutely anything for her. I am a huge advocate and supporter of mental health initiatives and animal rights. I would love to hear from you and you can do so by sending me an email, or giving me a call at (519) 537-8040 ext. 228.
Email Kaitlin: kaitlin.oshea@bci.fm