Birthday Club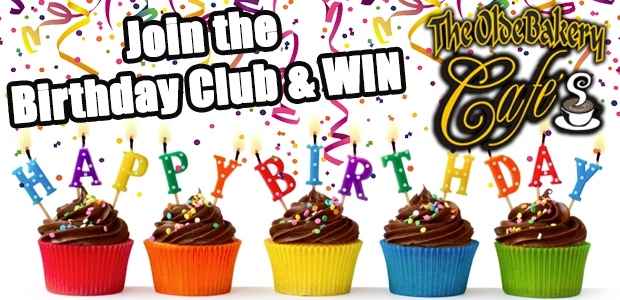 ---
Submit a birthday! We could announce it on Heart FM Mornings weekdays at 7:50!
Please submit birthdays no earlier than 30 days in advance

If we miss a birthday, please re-submit and we can make it up!

You can submit a family member, friend, co-worker or even a pet - just let us know in the form below

Once you win, come to the Heart FM Studios to redeem your prize! (

223 Norwich Ave, Woodstock, ON)
One Lucky Heart FM Birthday Club Member will win a gift certificate to use at The Olde Bakery Cafe in Ingersoll!
---
Your Comments
Posted on March 21st, 2023 7:30am
Posted on March 20th, 2023 8:02am
Posted on March 16th, 2023 3:23pm
Posted on March 16th, 2023 8:50am
Posted on March 16th, 2023 6:59am
Posted on March 13th, 2023 2:41am
Posted on March 12th, 2023 4:34am
Posted on March 9th, 2023 4:32pm
Posted on March 9th, 2023 2:49pm
Posted on March 7th, 2023 4:18pm
Posted on March 7th, 2023 8:58am
Posted on March 7th, 2023 3:19am
Posted on March 6th, 2023 3:43am
Posted on March 5th, 2023 8:30am
Posted on March 2nd, 2023 6:54pm
Posted on March 2nd, 2023 11:45am
Posted on March 1st, 2023 3:46am
Posted on February 28th, 2023 6:18am
Posted on February 27th, 2023 4:12am
Posted on February 26th, 2023 3:39pm
Posted on February 24th, 2023 9:06am
Posted on February 24th, 2023 8:03am
Posted on February 23rd, 2023 4:58pm
Posted on February 23rd, 2023 2:23pm
Posted on February 23rd, 2023 2:23pm
Posted on February 23rd, 2023 7:05am
Posted on February 23rd, 2023 6:59am
Posted on February 23rd, 2023 1:44am
Posted on February 22nd, 2023 4:01pm
Posted on February 22nd, 2023 8:46am
Posted on February 21st, 2023 10:43pm
Posted on February 21st, 2023 5:17pm
Posted on February 20th, 2023 7:17pm
Posted on February 18th, 2023 7:55pm
Posted on February 17th, 2023 7:16am
Posted on February 16th, 2023 3:37pm
Posted on February 15th, 2023 8:13pm
Posted on February 15th, 2023 8:00am
Posted on February 14th, 2023 6:08pm
Posted on February 14th, 2023 12:32pm
Posted on February 13th, 2023 8:53am
Posted on February 12th, 2023 8:02pm
Posted on February 9th, 2023 4:47pm
Posted on February 9th, 2023 7:41am
Posted on February 7th, 2023 8:49am
Posted on February 7th, 2023 8:46am
Posted on February 6th, 2023 10:25pm
Posted on February 5th, 2023 11:34pm
Posted on February 5th, 2023 12:29pm
Posted on February 4th, 2023 2:55am
Posted on February 3rd, 2023 1:50pm
Posted on February 2nd, 2023 9:29pm
Posted on February 2nd, 2023 1:44pm
Posted on February 1st, 2023 8:08pm
Posted on January 31st, 2023 2:51pm
Posted on January 27th, 2023 2:21pm
Posted on January 25th, 2023 2:35am
Posted on January 23rd, 2023 10:17pm
Posted on January 23rd, 2023 7:46am
Posted on January 22nd, 2023 10:49pm
Posted on January 22nd, 2023 4:36pm
Posted on January 22nd, 2023 1:51pm
Posted on January 21st, 2023 10:35pm
Posted on January 20th, 2023 5:12pm
Posted on January 19th, 2023 9:32am
Posted on January 19th, 2023 7:16am
Posted on January 17th, 2023 10:59pm
Posted on January 17th, 2023 6:32pm
Posted on January 17th, 2023 6:31pm
Posted on January 17th, 2023 9:35am
Posted on January 16th, 2023 3:53pm
Posted on January 15th, 2023 6:05pm
Posted on January 14th, 2023 2:34pm
Posted on January 13th, 2023 6:09am
Posted on January 11th, 2023 10:28pm
Posted on January 11th, 2023 12:45pm
Posted on January 11th, 2023 11:11am
Posted on January 10th, 2023 3:48pm
Posted on January 10th, 2023 7:48am
Posted on January 10th, 2023 3:26am
Posted on January 9th, 2023 6:28pm
Posted on January 9th, 2023 2:59pm
Posted on January 9th, 2023 7:23am
Posted on January 9th, 2023 1:10am
Posted on January 8th, 2023 3:45pm
Posted on January 8th, 2023 9:55am
Posted on January 6th, 2023 2:09pm
Posted on January 5th, 2023 4:19pm