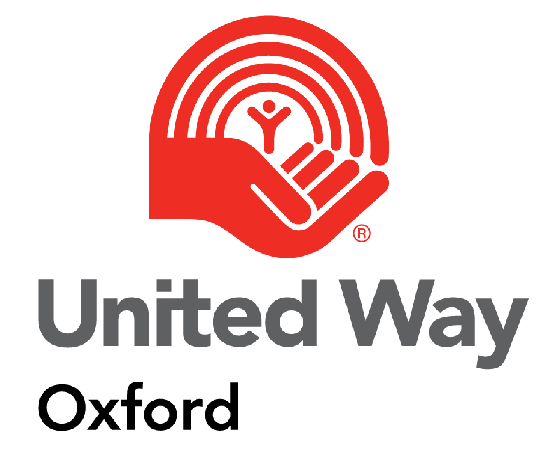 In partnership with the Community Foundations of Canada and the Canadian Red Cross, United Way Oxford distributed $333,000 from the federal government's Emergency Community Support Fun to local charities helping those most vulnerable during COVID-19.
OXFORD COUNTY - United Way Oxford has distributed $333,000 to 10 local charities, who are helping some of our most vulnerable people during COVID-19.
United Way Oxford partnered with Community Foundations of Canada and the Canadian Red Cross, to allocate money from the Emergency Community Support Fund (ECSF) on behalf of the Federal Government. The ECSF provides financial support to charities as they adapt and innovate to meet increasing demand for local services. All Canadians have been negatively impacted by COVID-19, but those that are marginalized, living in poverty, dealing with mental illness or addictions, homeless, isolated, or fleeing abuse, have been impacted to an even greater degree.
United Way Oxford is proud to support the investment of $333,000 to ensure vulnerable Citizens across our Oxford communities have access to vital programs and services. The response from community organizations was significant, with requests for funding more than doubling the dollars available for investment. Local volunteers committed over 225 hours reviewing 18 applications and guiding the investment decisions to maximize the ECSF impact in Oxford County.
The following organizations have already received the funding for various projects.
- Domestic Abuse Services Oxford (DASO): Funding to ensure adequate new kitchen safety supports are implemented for women and their children and that funding is available to provide healthy meals and snacks.
- Oxford County Community Health Centre (OCCHC): Launching a Mobile Health Outreach Bus to bring health and social services to vulnerable populations across the county, specifically targeting those most at-risk such as homeless, isolated, without connections/support/transportation, etc. through partnership and collaboration with other service providers.
- Student Nutrition Program, Oxford: Food security support of grocery cards and fresh produce hampers delivered to over 140 identified families with school-age children participating in the Food for Families program.
- Canadian Mental Health Association Oxford (CMHA): Providing MHeart (Mental Health and Engagement Response Team) services in partnership with Woodstock Police Services and OPP Oxford to ensure that MHEART clinicians can attend police calls to de-escalate crisis, complete assessments and support individuals and officers additional mental health services.
- Canadian Mental Health Association Oxford (CMHA): Awareness building of a specialized 'Front Line Health Care and Essential Worker' counselling program that is available free of charge through Walk-In-Counselling services.
- Ingamo Family Homes: Educational support for children as they transition back to school, helping to provide customized and individual supports for children as they learn and build confidence.
- Ingamo Family Homes: Tools and equipment required for outreach program with resident women and their children to assist with counselling, isolation, and safe interactions.
- Salvation Army Family Services (Woodstock & Norwich): Tools required to support the increased demand for the Community Volunteer Income Tax Program; Equipment to ensure Family Services and the Thrift Stores can address the increased health and hygiene standards and have access to clean PPE.
- Big Brothers Big Sisters Oxford: Implementation of a Virtual Mentoring Program to provide positive, creative adult relationships with children on their wait-list as well as the necessary technology tools to families without access.
- Supplies4Students Oxford: To assist the community collaborative to meet the anticipated increase in demand from families that are coping with reduced wages and job loss and require assistance with back-to-school expenses to ensure that their children have the tools required to help them succeed.
Executive Director of United Way Oxford Kelly Gilson says they are proud to distribute this funding to these amazing organizations.
"United Way's role in our community has never been more essential. We know the needs of our citizens, the agencies providing on-the-ground support, the gaps in service and how to make difficult funding decisions. We have shown our ability to mobilize partners and volunteers, respond to a rapidly changing environment, and make meaningful investments in a timely, open and transparent process.