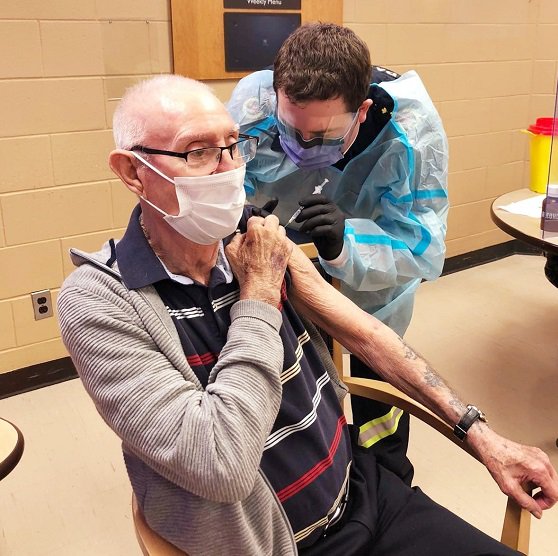 Tavistock's Earl Morrison was one of the first long-term care home resident in the region to get the vaccine yesterday.
A total of 118 residents at Maple Manor, peopleCare and Extendicare were given the first dose of the vaccine yesterday.
TILLSONBURG/TAVISTOCK/PORT STANLEY - A total of 118 residents at Maple Manor in Tillsonburg, Extendicare in Port Stanley and peopleCare in Tavistock got the first dose of the Pfizer BioNtech vaccine yesterday.
Southwestern Public Health distributed the vaccines using a mobile vaccination clinic. Medical Officer of Health Dr. Joyce Lock says they are thrilled to share this good news with the public.
"We are so happy to share a good news story during an otherwise difficult time. As a result of significant planning and strong partnership, the Pfizer vaccine was transferred London Health Sciences Centre to homes in our region assessed to have an urgent need. Yesterday was an exciting first step in protecting the most vulnerable in our community. We appreciate the flexibility, organization and enthusiasm of our Long-Term Care Home partners who made yesterday possible."
The Health Unit still has a lot of work left to do, with a total of 1,378 long term care home residents in the region who need to be vaccinate, in addition to over 500 residents in local retirement homes.
Long Term Care home staff from the region started to get the vaccine last month, at the Western Fair Agriplex. Southwestern Public Health is working with London Health Sciences to ensure that all eligible Long-Term Care and Retirement Home staff, residents, and essential caregivers are vaccinated by mid-February.
Due to a very limited supply of the Pfizer vaccine, this initial allocation was prioritized for individuals who have not yet tested positive for the COVID-19 illness.
Those who have tested positive for COVID-19 will have a level of natural immunity upon recovery.