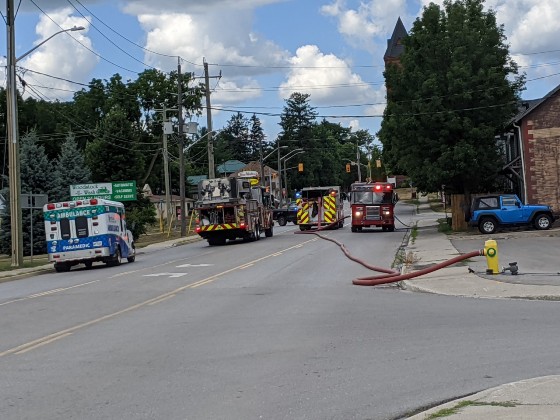 Nobody was injured after a fire today in the area of Main and Simcoe Street in Woodstock. It was the second fire in 2 days in the Friendly City that was caused by discarded cigarette butts.
WOODSTOCK - Nobody was injured after a residential fire on Mill Street between Main and Simcoe today in the City of Woodstock.
The road was closed for almost an hour while crews extinguished the blaze. Public Information Coordinator Lisa Woods says the fire was caused by a discarded cigarette butt that was left on the deck after a night shift.
"Today's fire could have been much worse. The homeowner did not discard their cigarette properly and it caught the deck on fire and some articles on the deck and a tree close to the deck and their were cars very close to the proximity, so had we not arrived quickly and were able to extinguish it, things could have been much worse."
The damage estimate is about $2,500.
This is the second fire in 2 days in the City of Woodstock that was caused by a cigarette butt. Yesterday a grass fire started on Parkinson Ave after someone tossed a butt out of their car window.
Woods says you have to be really careful with cigarette butts, especially with this heat.
"I don't think people understand when you throw your cigarettes out the window, they can land pretty much anywhere. We have had grass fires and mulch fires this year that were caused by people throwing cigarettes out the window and they have started a fire in the aftermath of that."
Woods says you need to extinguish your butts in a container if you are going to smoke in the car and never toss them out the window. You can follow the Woodstock Fire Department on Facebook and Twitter for more fire prevention tips.
2 days 2 fires started by cigarettes-1 out a car window started grass on fire-1 on a deck that could have been much worse #FireSafety pic.twitter.com/zhZyoVkbCO

— Woodstock Fire Dept (@WoodstockFireDe) July 28, 2020