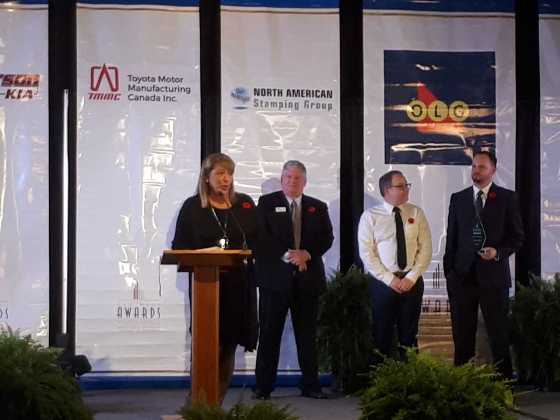 The Woodstock Chamber of Commerce handed out 10 awards last night at the Annual Business Awards of Excellence.
WOODSTOCK - The Woodstock Chamber of Commerce handed their annual excellence awards.
Leslie Farell who owns a Tim Horton's Franchise in Woodstock won the Presidents award. Farell won the award in part because of the work she does in the community for the United Way, Handbags for Hospice and so much more.
She was honoured to win.
"When your part of the community you do things because it is the right thing to do, not for an award, you do it because it is the right thing to do. I'm really proud to be a part of this community. I just want to thank the Chamber for acknowledging what I do and again I don't do it for recognition, I do it because I love my community."
Other winners on the night include;
Outstanding Commercial/Retailer Award - Smith's Flowers
Outstanding Community Involvement Award - Upper Thames Brewing Company
Outstanding Energy Conservation and Innovation Award - Harcolm Farms
Outstanding Food Services Award - Finkle Street Tap and Grill
Outstanding Manufacturer Award - Stonex Granite and Quartz Inc.
Outstanding New Business Award - Woodlynd's Chocolate Shop
Outstanding Professional Services Award - Wellington Animal Hospital
Outstanding Young Entrepreneur Award/Young Professional Award - Tilstra Plumbing