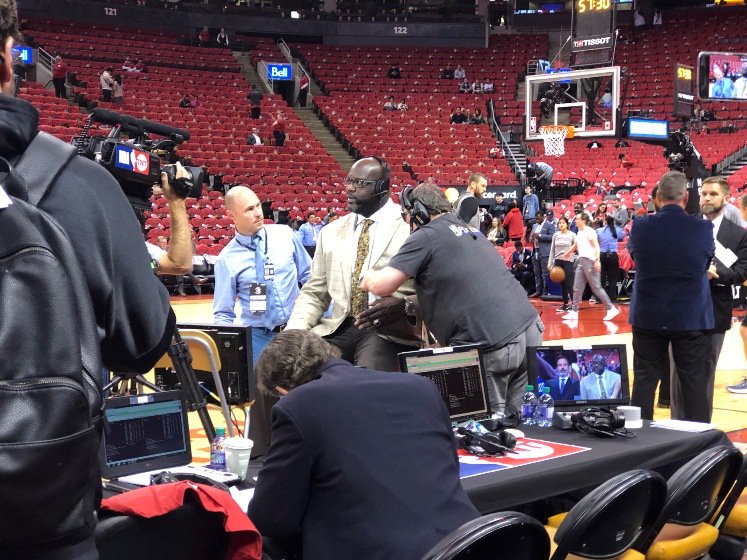 Submitted Photo From the Eastern Conference Finals
Heart FM's Raptors Insider Ed Hawkeswood breaks down game 1 of the NBA Finals and talks about what the Raptors need to do to keep home court advantage.
The Toronto Raptors stunned a lot of people south of the border winning game 1 of the NBA finals last night against Golden State.
Woodstonian Ed Hawksewood was working the game as a stage manager, you can read more about his role behind the scenes here.
He was really impressed with Pascal Siakam, who led the Raptors is scoring with 32 points and actually had more points than Lowry and Leonard combined last night.
"Siakam reminds me of 1980's Dennis Rodman, Rodman was always described as a pogo stick and he got his spot in the Hall of Fame because of his excellence on the defensive end. Pascal is a very good defender and his pogo stick and east, west speed ability remind me a lot of Rodman and it is a god given gift that Siakam has and he maximizes it on the court. It is really, really fun to watch, he is one of those special athletes that you definitely notice when he is on the court and he is always eye catching."
Hawkeswood says game 2 is crucial for the Raptors, especially with Kevin Durant not playing.
"This game is going to be very important because theoretically the Raptors could be up 2-0, they could announce that Kevin Durant is coming back for game 3 and Golden State could still be favoured, even if they have to win 4 out of 5 games, that is a distinct possibility. Toronto should really come out of the gate with aggression, Draymond Green has promised to be more aggressive on defence, Toronto should not only match but exceed that and treat it as a must win game."
Hawkeswood admits, at one point last night he had to stop and take a moment to realize what was happening around him.
"I thought the anthems were done very well, both by the singers and the crowd, in the arena they had wrist watches that glowed in a synchronized fashion for the anthems, red, white and blue for the Americans and red and white for us, so that was really special. When you go to games you will see prompters asking the crowd to make noise, that didn't happen last night, all of the noise was organic and generated from a fan base that has been patient and devoted and that was really good to see."
Michael Wilbon, a famous broadcaster in the States and host of PTI tweeted out last night his appreciation for Toronto.
Been covering the NBA Finals since (if memory serves me) 1986... and this is the most passionate scene I can recall in all those years. Oh Canada! pic.twitter.com/OMZduUXteS

— Michael Wilbon (@RealMikeWilbon) May 31, 2019
Hawkeswood says Wilbon's tweet was genuine.
"I saw Wilbon yesterday for the first time and I think his tweet was genuine and not just rhetoric. You can say intense is how you found other fan bases, or ready to go war but when he says passionate, it is the combination of belief and love and positive energy and excitement and I have to echo those sentiments."
Hawkeswood says he will spend a lot of time on the 401 this weekend as he will be working doing Raptors coverage but also doing his best to catch his son's baseball games with the Woodstock Wranglers, who are competing in a tournament in St. Thomas.