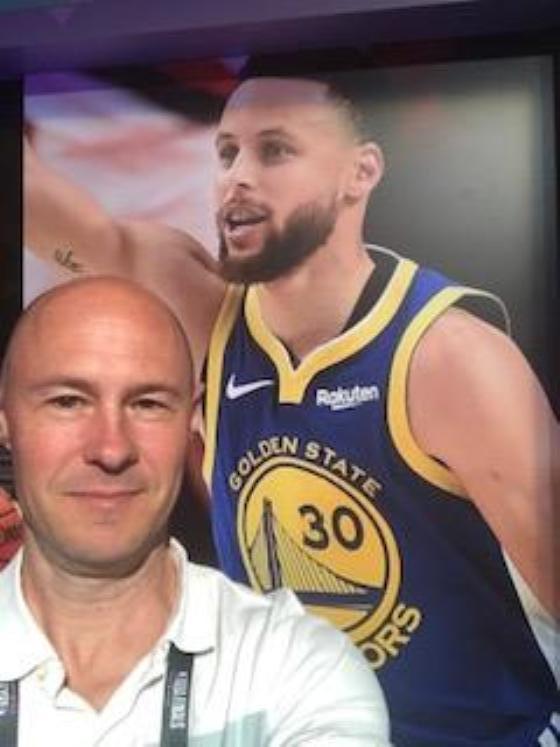 Local NBA expert Ed Hawkeswood provides some insight from game 5 and what it was like court side when Kevin Durant went down with his injury.
WOODSTOCK - The Toronto Raptors will have a couple of days to stew over a huge missed opportunity last night.
Toronto lost a nail biter and a chance to win the NBA championship losing 106-105.
One of the biggest controversies on the night was the crowd reaction when Kevin Durant was injured. Stage Manager for NBA broadcasts and local NBA expert Ed Hawkers was working the game and sitting court side. He says the fan reaction was a bad look for Raptors fans, however it is also being a little over blown.
"There were a lot of faces at the game last night that I just didn't recognize, normally I can pick out familiar faces who have been going to the games for the past 20 years, and last night there was a lot of new basketball fans at the game. About 5,000 of them watched Kevin Durant warm up, they booed him the entire time, but you could tell right away that he was going to be good and he was. When he got injured, I would say about 10 percent of the crowd reacted improperly, it was noticeable, it was wrong, it was shameful and it happened, now the rest of the crowd was pretty good but there was no argument against it. Raptors players were trying to calm down the fans, so people were doing it, it was heard and now Golden State has something to rally around, both the Durant injury and the fan reaction."
Another controversy last night was Nick Nurse's decision to call timeout after the Raptors went on a 10-0 run and looked like they had the game in hand.
"It didn't make any sense to me why that timeout was called. No need for it and I wonder if there was something more to it that we just don't know. I don't know if someone needed a rest but in doing so, you are also giving a depleted Golden State team a rest as well. I have no answer, calling that timeout with about 3 minutes left was a bad mistake."
Hawkers says he still thinks the Raptors can win, however he thinks the series is going 7 games.
"I already have been contacted about working on Sunday and I am anticipating working on Sunday. The Raptors have had tremendous success in Golden State, and it would be very surprising to me, to think that they are just going to run the table out west, all year long. It is the very last game in an arena, with a crowd who knows that things are going to change now with the Durant injury. So I think the fan base is going to lay it all on the line and let's not forget, Steph Curry, Klay Thompson, Draymond Green, those are three great basketball players and Demarcus Cousins may be rounding into form."
Hawkeswood says if the Raptors are going to win this series, they are going to need some big performances from guys like Pascal Siakam and Danny Green.