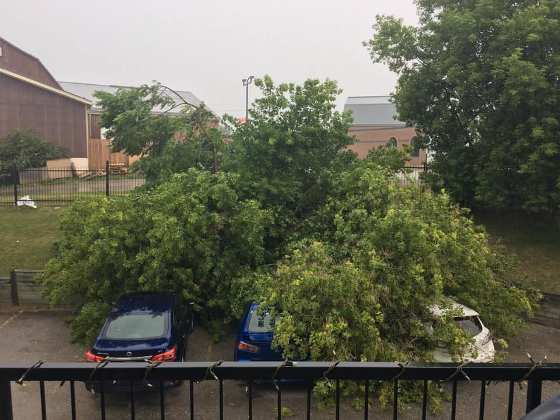 Check out these photo's from around Oxford County of yesterdays storm that downed several trees and hydro lines. Environment Canada is investigating a possible tornado in Belmont.
OXFORD COUNTY - Many people in Oxford County are having to clean up their properties today after massive storms ripped through Southwestern Ontario, including Oxford County.
At least one possible tornado is under investigation right now in Belmont and we have heard from listeners who say they felt like a tornado touched down in Beachville, however nothing has been confirmed yet by Environment Canada.
The storm knocked down trees all across the County and ripped down hydro lines as well in Tillsonburg and Beachville. We had several reports about trees falling in the streets, on people's properties and even landing on three parked cars in Ingersoll. One tree destroyed a pool, another took down a fence and this is all just in Oxford County.
Check out some of the photo's below from people in Oxford County and the damage the storm caused yesterday.