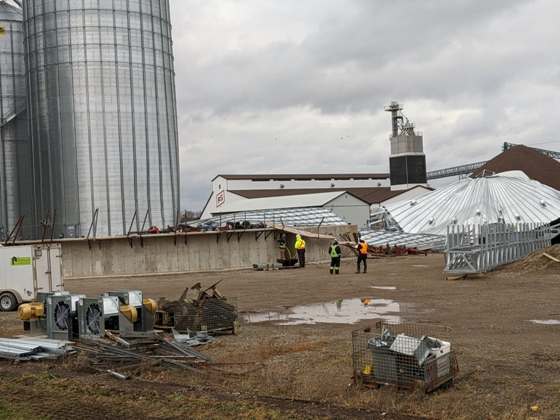 Thousands of people are still without power after yesterday's storm knocked down hydro poles, ripped trees out of the ground and even toppled over a new silo.
OXFORD COUNTY - Thousands of people in Oxford County are still without power this morning after a massive wind storm ripped through the region.
Strong winds knocked down hydro poles, ripped trees out of the ground and it even knocked over a new silo at FS Partners in Ayr. Norwich Ave is still blocked off between Parkinson and Alice Street because of a hydro pole that nearly toppled over in front of the Pioneer gas station. The storm caused multiple road closures all across the County and we had dozens of reports of trees being ripped from the ground, blocking roads. At least one listener from Ayr informed us of a new addition that was under construction on their house that was destroyed by the strong winds.
Three schools in the region are closed today because of the storm. They are the Hickson Central Public School, Port Burwell Public School and the Plattsville and District Public School. Utility and Thames Valley staff are working to restore power.
About 600 people are still without power in Blandford-Blenheim, another 800 customers without power in Norwich Township and their are still small pockets of power outages in East-Zorra Tavistock, Ingersoll and Zorra Township.
Hydro One crews are estimating the power will be restored today, in some places though it could be later this evening.