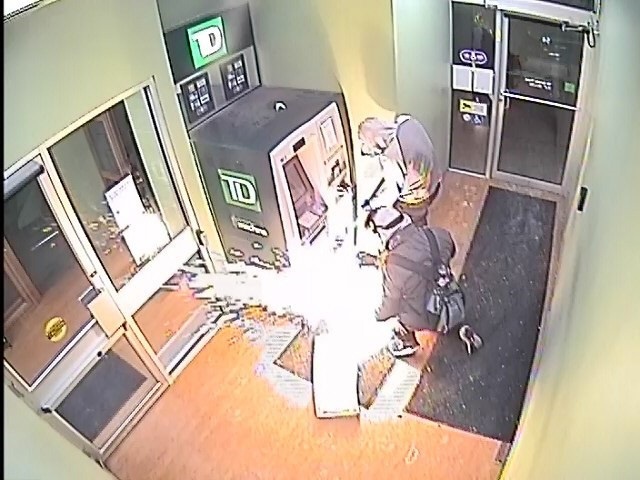 Police are searching for two suspects who tried to steal an ATM from the TD bank in Waterford early Sunday morning.
WATERFORD - Norfolk OPP are searching for two people who tried to steal an ATM machine from the TD bank in Waterford.
Police have photo's of the suspects using tools to try and take the ATM from the bank on Main Street South, Sunday morning just before 5. The suspects fled just before police arrived in a light coloured vehicle.
They were unsuccessful in their attempt to break open the ATM.
Police are continuing to investigate and are seeking assistance from the public. If anyone has any information regarding this incident, they are being asked to contact the Norfolk County OPP Detachment at 1-888-310-1122.
Should you wish to remain anonymous, you may call Crime Stoppers at 1-800-222-8477 (TIPS) or leave an anonymous online message at www.helpsolvecrime.com, where you may be eligible to receive a cash reward of up to $2000.
#NorfolkOPP are looking to identify two persons of interest that caused damage to an ATM at a bank on Main St South #Waterford in the early morning of February 21. Anyone with information is asked to call 1-888-310-1122 or @hncrimestoppers 1-800-222-TIPS^sg pic.twitter.com/LdCfsOADFF

— OPP West Region (@OPP_WR) February 22, 2021