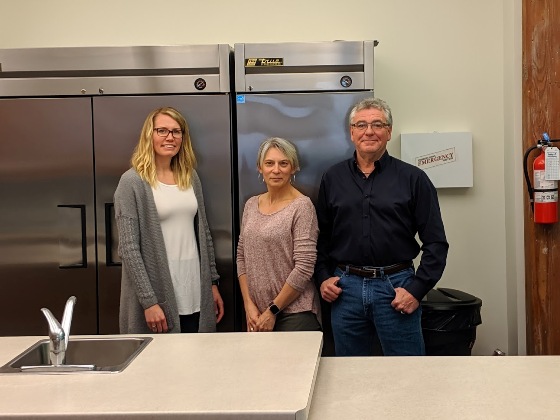 Bullwinkle's Eatery makes it's return tomorrow with a Grand Re-opening at the Indwell Harvey Woods Lofts on Van Ave.
WOODSTOCK - Bullwinkle's Eatery makes it's triumphant return tomorrow with a Grand Re-opening.
Last month Operation Sharing and Indwell announced a new partnership that will see Bullwinkle's operate out of the atrium inside the Harvey Woods Lofts on Van Ave. Bullwinkle's surprisingly closed it's doors in April after spending 3 years at the Moose Lodge.
Bullwinkle's will start serving meals once again tomorrow June 4th at the new location and will be open every Tuesday and Thursday, with the same restaurant style and sliding scale pricing. Everyone in the community is invited to the restaurant every Tuesday and Thursday from 11:45 am to 1:30 p.m. The sliding scale means that the less fortunate in our community only need to pay $1 for a delicious buffet style meal, guaranteed to have protein options for both meat eaters and vegetarians. Those with the means are asked to pay $7 for their meal.
Trainer and Head Chef Vanessa Page says the program was designed to help erase the stigma of going to a Soup kitchen, that is why Bullwinkle's operates on a sliding scale and everyone in the community is welcome and encouraged to enjoy a delicious meal.
"There is nothing better than coming together over a meal and speaking with your neighbour. The unfortunate part about soup kitchens is you will only the folks dining there, that are in need of meals, that is why we wanted to create something at Bullwinkle's where the entire community can get together to enjoy a nice meal. "
Page says there is a real benefit in the community for people of all walks of life to get together and enjoy a meal, because everyone in our community has something to offer and insights to provide.
The other part of Bullwinkle's is it is a training facility and provides people with real world culinary experience. It is great to put on a resume and a great tool for anyone looking to find training or skills to seek a profession in culinary. The training program runs for 10 weeks and you can sign up through Operation Sharing.
Since Bullwinkle's has started at least 10 people have moved onto full time employment through the hospitality training. It is free for anyone to sign up as a participant and they learn a tremendous number of skills on how to work in a restaurant and catering. Operation Sharing actually does a lot of catering in town through the Bullwinkle's program, including the Oxford County staff Christmas party every year.
This year they have also entered into a partnership with WDDS and will have welcome members from there to the team.