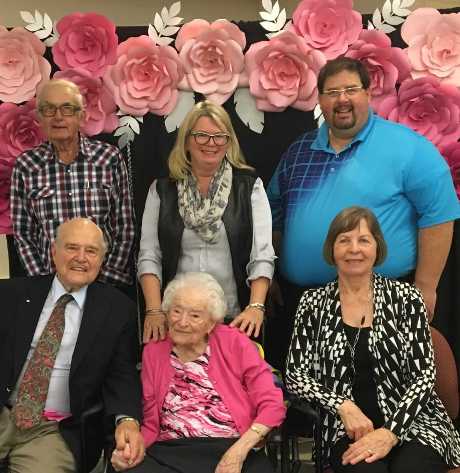 Bessie Round & Family (submitted)
The Oldest Woman in Woodstock is sharing her secrets to a long life.
WOODSTOCK - The oldest woman in Woodstock was able to celebrate her 105th birthday with her 7 grandchildren, 14 great grandchildren and 8 great-great grandchildren.
Bessie Round shares with us the secret to a long life.
"I just enjoyed every day as it went along and I think you need a lot of music in your life in order to live for a long time."
She also says there is nothing wrong with eating potatoes, no matter what Harvard Professors are saying these days.
"Well I really enjoy potatoes, no matter how you make them."
Bessie lived in Oxford County her entire life, she was born on December 16th, 1913. She was the eldest child of Walter and Annie Rutledge and grew up on a farm in Zorra Township.
In 1935 she married Otto Rounds and they farmed in the Lakeside area for many years. They had two children Clarence and Lorena. Bessie loves music and was a church organist at Broadview Church in Harrington. She was also a nurse who worked at the Stratford General Hospital for several years before retiring.
She has been at Woodingford Lodge since 2013 and still looks forward to every singe one of their musical events.