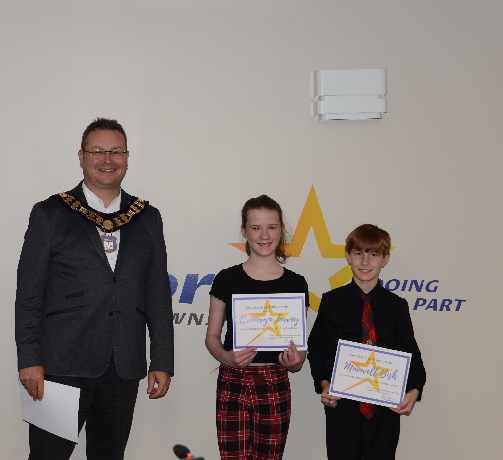 Photo Credit: Lisa Teeple, Records Management Coordinator/Executive Assistant of Zorra Township
Last Wednesday's Zorra Township Council meeting saw two dancers honoured for their contributions in their local arts community.
ZORRA TOWNSHIP - Two 12 year-old Zorra Highland Dancers were honoured at a recent Zorra council meeting.
Bronwyn Turvey and Maxwell Bish were presented with a certificate at last Wednesday's meeting.
Director of the Sim School of Highland Dance, Sherry Sim says it's been very rewarding to see both dancers grow over the years.
"Both of them are very quiet, humble individuals and they were very modest in receiving this award, but I know it will continue to grow their self-confidence and I think when you recognize our youth it does encourage them to continue on with activities that they're invested in."
She says the award recognizes youth for their contributions in different areas, including sports and the arts.
Sim says Turvey and Bish have medalled several times in multiple competitions overseas, and they have been dancing since they were three years-old. She adds they both dance three to four hours a week to develop their skills.
She says says both of them have evolved to perform at the highest level of competition.
"It's just very rewarding as a teacher to have commitment from children that stick out. It's a very disciplined form of dancing so to see them stick out the years that it takes and then have the enjoyment on the other side of that dedication is wonderful."
Turvey and Bish are students at the Sim School of Highland Dance and they have represented the school, performing in nursing homes and hospitals.
Turvey is a recent nominee for the Scottish Teachers of Dance Association scholarships after she was chosen for her excellence in exams by an overseas examiner, and she will be travelling to Seattle this fall to represent the school. Bish participated in the same event last year.
Turvey and Bish are going to be representing Zorra when they travel to Scotland this year, where they have gone to compete many times since 2013. She says five other dancers will travel with them as well; the first family left on Friday and the rest will join them this week visiting different levels of competition in Highland Dancing.