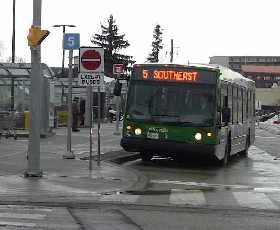 The changes to the Woodstock Transit system started on Tuesday.
WOODSTOCK - Changes to the transit system in Woodstock have been in place since Tuesday.
The bus now runs longer on Monday to Friday starting their routes at 6 am and Monday through Saturday they now run until 10 p.m. at night. Woodstock Mayor Trevor Birtch tells Heart FM he took the bus on Tuesday to see how the changes were going.
"I heard from some individuals that it would be nice for them to run even a little later and maybe on Sunday and I encourage everyone to get out and ride and share the new transit information with all of your friends and neighbours and as we see ridership increase, we will look at ways to make more improvements, one step at a time."
Another change was they increased the price of the fare from $2.00 to $2.50.