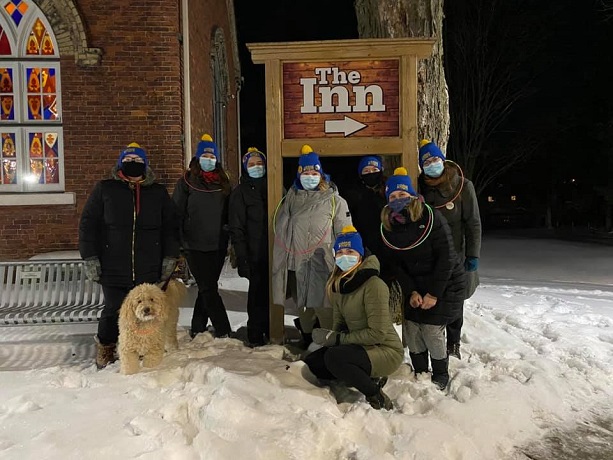 221 people took to the streets of Woodstock on Saturday for the first annual Coldest Night of the Year fundraiser for Oxford's only homeless shelter, The Inn, run by Operation Sharing.
WOODSTOCK - The first annual Coldest Night of the Year walk in Woodstock set out with a fundraising goal of $20,000 for the only homeless shelter in Oxford County, The Inn, which is run by Operation Sharing.
A total of 44 teams participated with 221 walkers and over 1,000 individual donors who gave money this year, raising a remarkable $77,000 and counting. Walkers were able to grab their toque and other supplies last week at the INN and they were left to do the walks on their own or in their individual groups this year because of the pandemic.
Organizer Scott McKague says all of the money raised will go towards Oxford County's only homeless shelter.
"There has been a little bit of miscommunication about that on social media, so I would like to set the record straight on that. While the cheque is going to Operation Sharing, that money is funnelled through Operation Sharing to the Inn. They have some other projects that they do too, which are great projects but I don't anyone who donated, to think the money is not going to where they thought, it is going all to the Inn."
McKague adds this whole project has shown to him, what a fantastic community we live in.
"I've lived here for 3 years now and we came here to live in a place that had more of a sense of community. I can't use those catch words of overwhelmed, staggering too often but that is really what it is. We had people from every walk of life involved, people living in poverty who raised money themselves. Businesses, churches, social service groups, the list goes on and it was the exact outcome I was hoping for to be honest and I can't wait to do it again next year to be honest."
At last check they had raised over $77,000. They are still accepting donations online here.