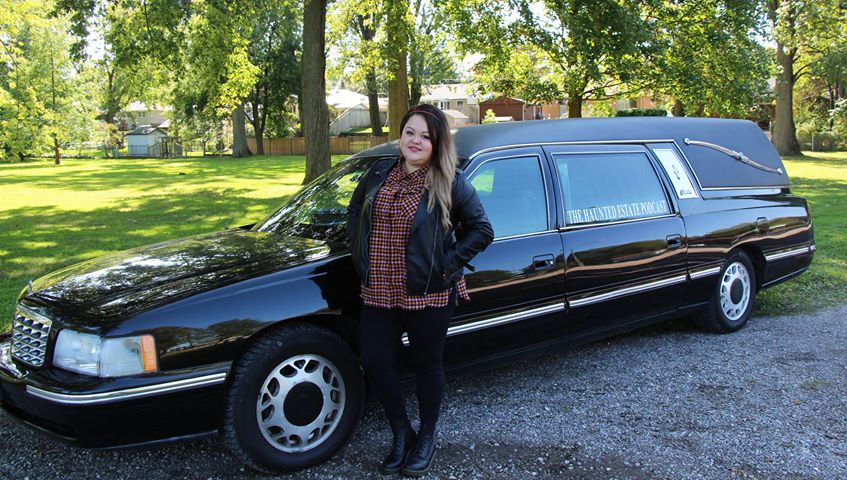 Celina Myers hoping to fill her hearse with supplies to help the homeless (submitted)
A local woman will be collecting donations for the homeless next week in Woodstock. Celina Myers says she is hoping to fill her hearse with a number of items, that she will distribute to the homeless.
WOODSTOCK - A Woodstock woman is looking to fill her hearse full of backpacks, clothes and other supplies for the homeless.
You may have noticed Celina Myers driving her hearse around town, as it is a real head turner. Myers says she wanted to something after seeing a lot more homeless people on Dundas Street in Woodstock recently.
"I think a lot of it was in the last year, seeing how the homelessness in our community has exploded. Driving down Dundas lately during the construction and seeing the amount of people sleeping in doorways, walking around, even going back that evening and seeing that many people out at night, that didn't have a place to go."
Myers says she hopes that more people will join this cause.
"I want to inspire people to do things, it doesn't take an army, it just takes one person saying hey, I want to make a change, I want to make a difference in someone's life and it can be as simple as handing them a backpack full of supplies."
Myers will be collecting donations next Week on Monday, Tuesday and Wednesday at the Great Canadian Dollar Store parking lot on Springbank Ave from 6-7:30 pm. She plans to distribute the items herself to homeless people in Woodstock and the surrounding area.
Please Read All- FILL THE HEARSE WITH LOVE- WOODSTOCK In 2017 two homeless people died every week from exposure in Toronto alone, from January to March, the real number is believed to be a lot higher. Recently I have been shocked at the growing amount of homeless people within our community and towns close to us. The weather is quickly turning colder and I want help to pack the back of my hearse with backpacks full of things the homeless need most. I am reaching out to our community for donations of the following. - BACKPACKS - Large/ xl men's coats - Mitts/gloves/scarves/hats - Socks - Tooth brushes/tooth paste - Feminine hygiene products - Dog food - Snack bars - Blankets/sleeping bags - Reusable shopping bags - Cash (to buy more products, and gas for transport) Please help me fill the back of my hearse with love! Hearses may be used in the funeral industry but let us repurpose mine and make it a shuttle to help those going through a hard time. I know some are against giving to the homeless because they think it is a choice, they are not completely wrong. There are a lot of people like that. But there are also so many other reasons. In 2009 I met a homeless man in Toronto when I was on a day trip. I took time to sit and talk with him. He was a handicapped man. His whole life his mother was his caregiver. After she passed away he fell through the fingers of the "system" and ended up on the streets. This story is too common. So please search your closets and your heart and please help us make a difference in the people's lives. Please bring individual items or back a back pack! My goal is to back 50 back packs full of things to make street life easier. WE WILL BE ACCEPTING DONATIONS MONDAY 14th – TUESDAY 15th – WEDNESDAY 16th EVENING 6.00PM-7.30PM IN THE PARKING LOT OF THE GREAT CANADIAN DOLLAR STORE SPRINGBANK WOODSTOCK ONTARIO. - look for the hearse Thank You! – Celina Myers Please join our group - The Order Of Benevolent Hearts - Woodstock

Posted by Celina Myers on Monday, October 7, 2019