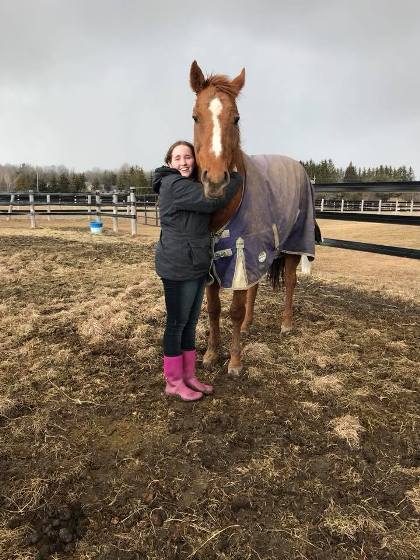 Rescued horse - Diamond Beau (submitted)
A former children's autism therapy horse was saved from being slaughtered, thanks to a group of students from Zorra Highland Park Elementary school.
EMBRO - After working as a therapy horse for autistic children after retirement from racing, it is only fitting that Diamond Beau was rescued by children, the very demographic the horse devoted much of his life serving.
Full of compassion, Brenna Parkhill wanted to do something big and with impact in her community, she and several other students from Zorra Highland Park elementary started a group called "The Hoof Club" with hopes of saving the horse.
After selling hot chocolate during their school breaks, they raised an impressive $825. The money was used to save the horse from being sent to a kill house.
Brenna's mother Gillian Bowery was surprised to learn about the colourful past of the gelding.
"We checked and it turned out he is a registered thoroughbred, he did race for a little while, we didn't know any of his history, until we were able to check his tattoo little later on, to find out his history is impressive and he is just a sweetheart."
The beauty was born in 1999 and has a strong blood line. He is the great, great, great grandson of the great Northern Dancer (a Canadian thoroughbred that won the Kentucky Derby and Preakness Stakes in 1964). He also descended from Canadian champion Regal Classic, Northern Dancer's grandson. Both came from Windfield's Farm in Oshawa.
Parkhill spearheaded the "Hoof Club" and one hot chocolate at a time came closer to her goal.
"I started Hoof Club, because I wanted to gather up all of the horse girls in school because I wanted to make something big possible."
The group gathered enough money to save the 18 year old chestnut thoroughbred from being shipped to Quebec for slaughter. Diamond Beau's hind leg has arthritis, so he can no longer be used as a riding horse. The horse had significant purpose for the past 10 years as a therapy horse for children with autism. His calm and sound demeanour made him the perfect choice for the school group to save.
Diamond Beau is still not out of the woods entirely, he is still looking for his forever home.
For more information on how to help, you can check out the Facebook page operated by Stoneridge Stables and Rehoming.