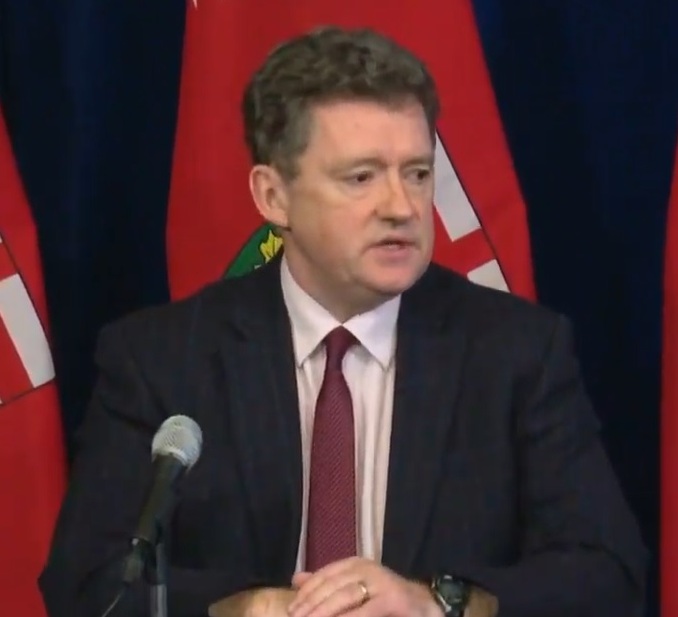 Public Health experts suggest the COVID-19 pandemic could kill anywhere between 3,000 and 15,000 people in Ontario. The only way to keep the number lower is to practice social distancing.
ONTARIO - Health experts in Ontario say they expect COVID-19 could kill somewhere between 3,000 to 15,000 people during the pandemic.
It is a wide ranging number and the reason for that is because they can't predict how serious people will take social distancing. If everyone stays home and only goes out for essential items or to work if they are an essential worker, then the number will be closer to 3,000.
The announcement also indicated today that the list of essential workplaces and industries will likely be shortened in the coming days.
If the Province had done nothing, experts suggest we could have suffered 100,000 deaths.
Director of Public Health Ontario Dr. Peter Donnelly says he needs everyone to consider the following.
"Every year in Ontario, we lose about 1,350 individuals to normal seasonal flu, so in a bad year, we may lose 1,500 people to normal seasonal flu. Now when you think that the mortality of this disease is up to 10 times higher and you remember that we have no vaccine, we have no specific treatment and this disease is entirely new to the population, then suddenly the figure of 15,000 becomes entirely logical and comprehensible.
Dr. Donnelly says we can avoid that number if we practice social distancing.
"We have in place a lot of social distancing measures, that taken along with the other public health initiatives that I have referred to, pushes back, if you like in the other direction. So the best answer I can give you, in terms of how can we get closer to 3,000 deaths, rather than 15,000 deaths, is we need to bear down, we need to do all the things we are doing and these additional things that I have mentioned."
Donnelly says the threat of COVID-19 could last as long as 2 years, with the potential for it to come back in different tiers. He is not calling for a completely lockdown at this time.
"The average person needs to do the things that they have been asked to do. They need to maintain physical distance from others. They should stay at home, unless they are an essential worker, or when they need to go out for essential tasks and those essential tasks need to be tightly defined. So in other words it is to get food, pharmacy supplies if those otherwise cannot be delivered."
He also offers this advice for anyone looking to get outside for exercise.
"It is imperative that they do that one their own, or perhaps in a very small group with people who they are already living with. It is not appropriate to stop in a normal way and speak to neighbours and strangers, because you need to maintain social distancing. People need to maintain hand hygiene, wash regularly with soap and water, using alcohol based anti bacterial agents, when soap and water are not available."