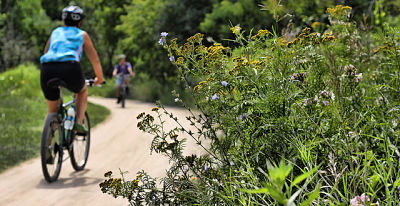 stock photo
The topic of cycling will be next on the agenda in the series looking at the film Aftermass at the Ingersoll Library this Thursday.
OXFORD COUNTY - The Oxford County Library's Movies for Change series is back.
The movie Aftermass will be playing at the Ingersoll Public Library. It will be focusing on the topic of cycling and how it's blossomed in Portland, Oregon, becoming the first major biking city in the United States.
Oxford's Assistant Support Librarian, Sarah McDonald says people who are interested in cycling should come out.
"If you're interested in bike culture, if there are things about bike culture in Oxford County that you'd like to see change, or laws that you'd like to see changed surrounding the bike culture, then I think this is a great opportunity to start a conversation with people."
The Movies for Change series has been around for about a year and it is about meaningful social issues and topics that are happening in the County.
She adds people in the community become really engaged while at these events.
"I think that our community members and all of our patrons that come to these events really appreciate having a panel of experts and policy makers and leaders in these topics to inform the conversation because it really does help direct the conversation. They're really able to answer questions on the spot and it gives it a much more meaningful feel to the conversation."
She says people enjoy the hands-on experience of getting a chance to speak to people who have experienced these situations.
McDonald recalled one event they hosted where they watched a film on earthship houses and then the audience spoke to a couple from Norfolk County who had built and lived in one.
The event is free and it will be taking place at the Ingersoll Public Library this Thursday, starting at 6 p.m.
Following the movie, a community conversation will be held with the Oxford Cycling Advisory and other patrons.