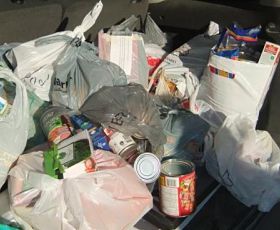 stock photo
A social distancing food drive is happening today at the Salvation Army Family Services Office. The Church of Epiphany in Woodstock is hosting the food drive at the parking lot on Huron Street from 11am to 1pm.
WOODSTOCK - The Church of Epiphany in Woodstock is hosting a social distancing food drive for the Salvation Army.
They are asking everyone in the community to bring food donations to the Family Services Office parking lot at 190 Huron Street. The Food Drive is happening today, Tuesday May 19th from 11am to 1 pm.
Everyone is asked to remain in your vehicle and they will collect the food donations from your trunk, to help with physical distancing. Some of the items the Salvation Army really needs right now include:
- Canned meats
- Canned Soups and Stews
- Pudding Cups,
- Canned Fruit
- Cereal
- Pasta and Pasta Sauce
- Peanut butter and Jam
- Hamburger Helper
- Coffee,
- Pancake mix and Syrup
- Canned goods and non-perishables
- Instant Coffee and creamer.
If you are unable to drop items off, please contact Jackie Alves at 226-228-4385 to arrange for a pick up.